Lighting is an integral part of deck and patio design that can help you create the ambiance you want in your outdoor living space. Today, we share four creative lighting ideas to consider for your new patio or deck area.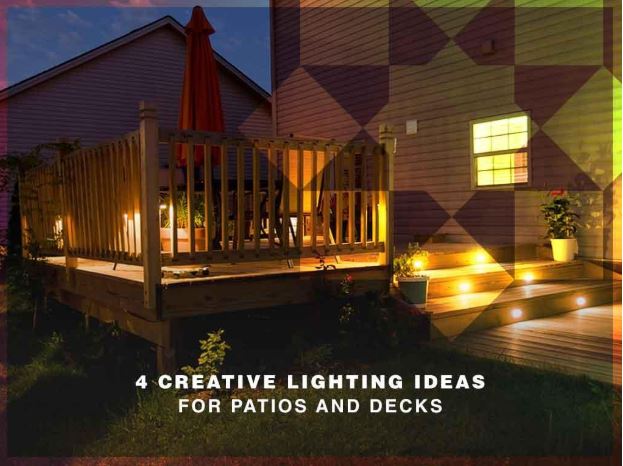 1. Light It Up With Lanterns
Lanterns are an effective yet low-cost lighting option for your outdoor living space. They offer pleasant illumination at night, while also functioning as decorative features that enhance the look of your space and add more value to your home. You can cluster them near the dining table or install them around the edges of the deck or patio.
There are multiple lantern options for you to choose from, but the most popular are real candles or battery-operated LED lanterns made to look like candles. As your local deck remodeling contractor, we can help you pick the best lantern option for your new deck or patio.
2. Light Strings
Light strings are easy to install and can give your outdoor space a whimsical, romantic vibe. A simple but effective way to install them is to affix the light strings to the exterior wall of your house and on the edges of the patio or deck so they trail down into the space.
3. Step Lights
If you're looking for more subtle lighting options, we recommend step lights that you can install on the steps or walkways. These are usually no bigger than your hand but are exceptionally bright and can easily be mounted on any flat surface. Apart from lighting up your deck and patio, they make stairways more accessible and safe in the dark.
4. Outdoor Lamps
Unique outdoor lamps can reflect your sense of personal style and add rich character to your outdoor living space. The typical 60-watt electric table lamp is enough to add ample lighting to a section of your deck or patio.
As your local deck company, The Deck Store will be happy to help you transform your exterior space into an attractive and completely functional extension of your home. For custom deck solutions, call us today at (701) 223-1008. We are a remodeling contractor serving homeowners throughout Mandan, ND, and nearby areas.