Building the Finest Custom Decks in Bismarck, ND
Could you use a new deck for entertaining guests, relaxing or dining? Could your current deck use a little professional TLC? If you responded yes to either of these questions, The Deck Store is an expert remodeling contractor that's here to take care of your and your deck. Because we focus on decks and nothing else, we make knowing how to make them look their absolute best our number one priority, followed closely by taking great care of our customers. We hope you'll give us the chance to show you the potential waiting to be unleashed on the exterior of your home.
Specializing in Building and Remodeling Decks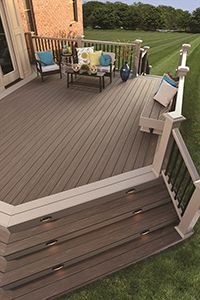 If you want to build a new deck, we start by discussing the look you'd like for the exterior of your home and your price range. No matter your preferences, you can rest assured that you'll have a top notch deck installed by a professional deck installer in Bismarck, North Dakota and Steele. We make sure we have all of our bases covered, including:
Permits, to ensure your deck is built according to local ordinances
Homeowner's Association Approvals, in order that you aren't violating your development's rules
Municipality codes, so that you don't land in hot water with the city or county
Inspections, in order that you can be sure your deck is built to industry standards and so that you can enjoy it in peace
Should you have any questions during any step of the process, don't hesitate to reach out to us. We'd like nothing better than to teach you just as much about decks as we know.
Contact Us Today
To explore your options for custom decks in Bismarck, ND, and New Salem, contact The Deck Store at (701) 223-1008. Alternatively, we also have a Contact Us form here on our site for you to fill out and submit.