Building a deck is a great investment for your home. With the right design, a deck can meaningfully enhance the beauty, comfort, and value of your home. Read on as your trusted remodeler, The Deck Store, shares four great design ideas for your deck: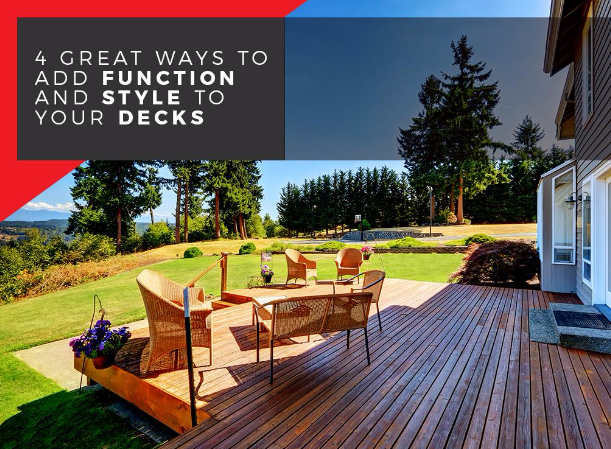 1. Create a Dining Deck
There's nothing like enjoying a delicious meal outside, surrounded by nature's beauty. Turn your deck into a chic dining area where you can entertain guests, or just dine casually with your family, by investing in a grill and furnishing the space with a stylish table and chairs.
2. Let Nature Inspire You
Your deck should enhance the beauty of your yard, not compete with it. Look to your natural landscape for inspiration. For example, we can create custom decks that are built strategically around the tall trees in your yard, resulting in a lush, well-shaded sanctuary for you and your family.
3. Complement Your Home's Architectural Design
When designing your deck, it is essential that you keep your home's architectural design in mind. If you have a contemporary home, for example, we may recommend building a curved deck. This style will contrast pleasantly with the sharp angles of your modern home, further enhancing its sleek appeal.
4. The More the Merrier
Decks are a great way to make the most out of your yard, giving you and your family additional living space. Your reliable deck installer can build several deck layers for your convenience. The upper level could be reserved for outdoor cooking and dining, while the lower level serves as a lounging nook.
For more ideas about adding style and function to your deck, call us at (701) 223-1008. You may also complete our form to request a FREE estimate. We serve Bismarck, ND, and surrounding areas.